Is American Airlines Having a Crisis?
Published August 26th, 2021 by Emily
---
I recently had a pretty bad experience flying with American Airlines. My flight was cancelled and I was stranded overnight in Dallas. My coworkers who all flew American that day had delays or cancellations in their itineraries, too. The one person who arrived on time? Flew Delta.
Talking with the other people waiting for my final flight and a quick Google search reveals that I was not alone in my misery. There are articles and anecdotal stories all over the place about American cancelling flights and leaving passengers stranded. But they reference personal experience and tweets; what about the data?
A fellow redditor directed me to transtats.bts.gov, which keeps information on how many flights are delayed by carrier and makes it available for download. It didn't take long for me to look at all of the US carriers and how many delays and cancellations there were
Unfortunately the latest data they have is from June 2021, but that's okay. I'll start there and check back next month. I also had a bad experience with them in July, so I wonder if they were having trouble as early as June.
I'm doing this project with a personal motive, and I really only have the option to fly American, Delta, or United, so that's why I chose to only search for those three.
Whose Flights Are Leaving On Time?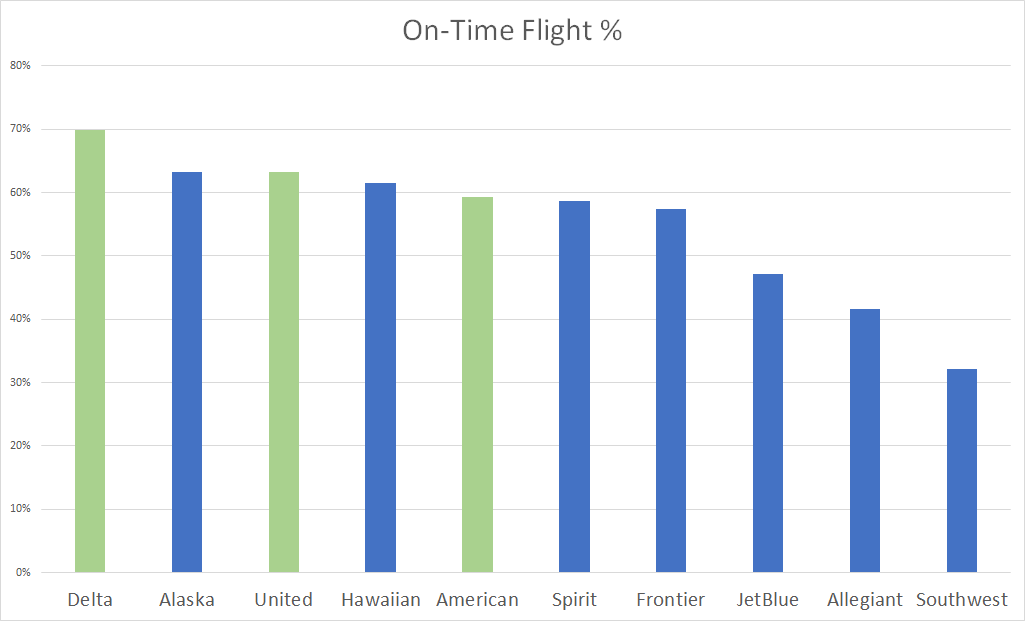 Of the three airlines I'm concerned with, American is the worst. In fact, all of the airlines that leave on-time less often than American are "budget" airlines.
That means that American has the fewest on-time flights of any major US carrier.
What About Cancelled Flights?
That's what stranded me in Texas. Delays are annoying, but as long as they're on the final flight of your itinerary, you'll still make it home.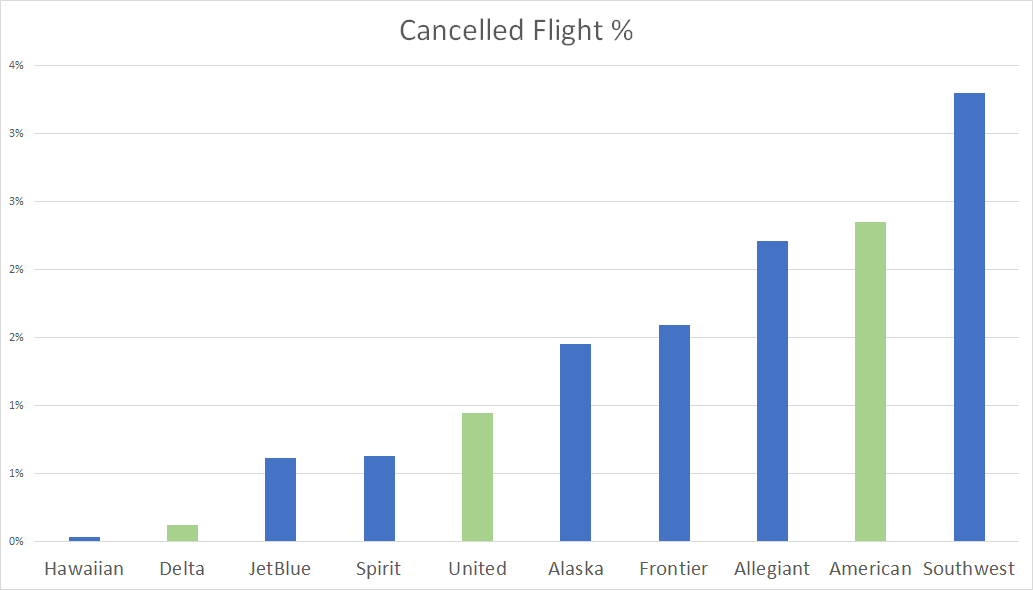 American cancelled 2.4% of its flights, compared with 0.9% from United and 0.6% from Delta. That doesn't seem like many, but that amounts to American cancelling over 100 flights per day in June. Also, because budget airlines have fewer flights than the major carriers, American cancelled more flights any other US carrier.
Why Is American Having Such a Hard Time Getting Flights In The Air?
The data gives us a little insight. Each cancelled flight has a code that tells you why.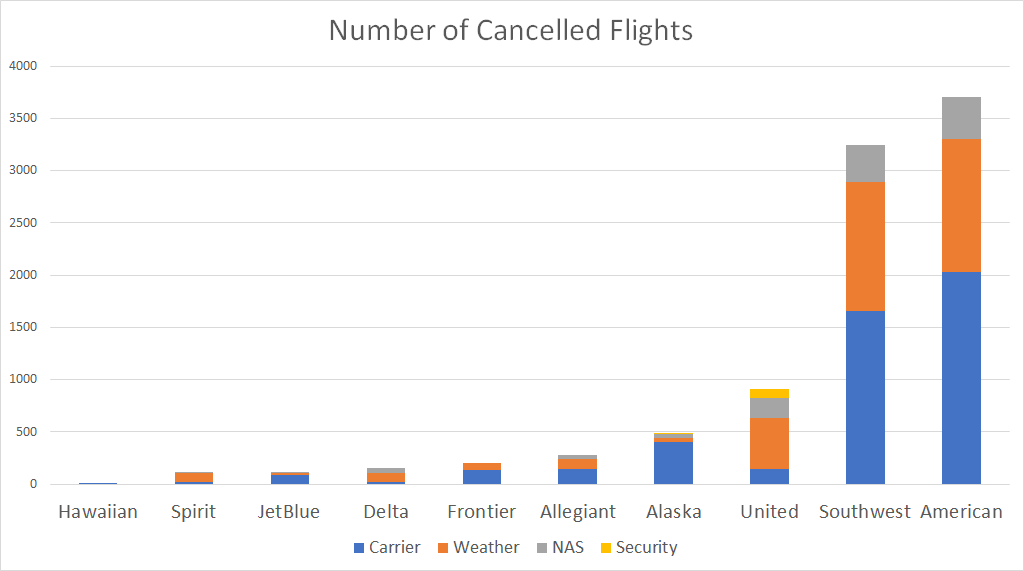 As far as the data tells us, the vast majority of American's flight cancellations are their own damn fault. Of United and Delta's cancelled flights, two reputable carriers (in my eyes), the reason is "carrier problems" only 16% of the time. American's cancelled flights are due to "carrier problems" 55% of the time. That's an awfully high number.
Southwest and Allegiant Airlines have almost the same likelihood of carrier problems being the reason for a cancelled flight, and other budget airlines (Frontier and JetBlue) are have a higher chance. The worst offenders are Alaska and Hawaiian, but Hawaiian only cancelled two flights in June so I'll cut them some slack. Not sure what's going on with Alaska, I'm unfamiliar with them.
As an interesting coda to all of this, I checked out Google Trends. I don't yet have the data for July and August, but maybe I can see how much people are searching for "American Airlines Delay" and "American Airlines Cancellation" and compare that against other carriers.
Sure enough, I see that American has the more search interest for "delays" and "cancellations" than United or Delta.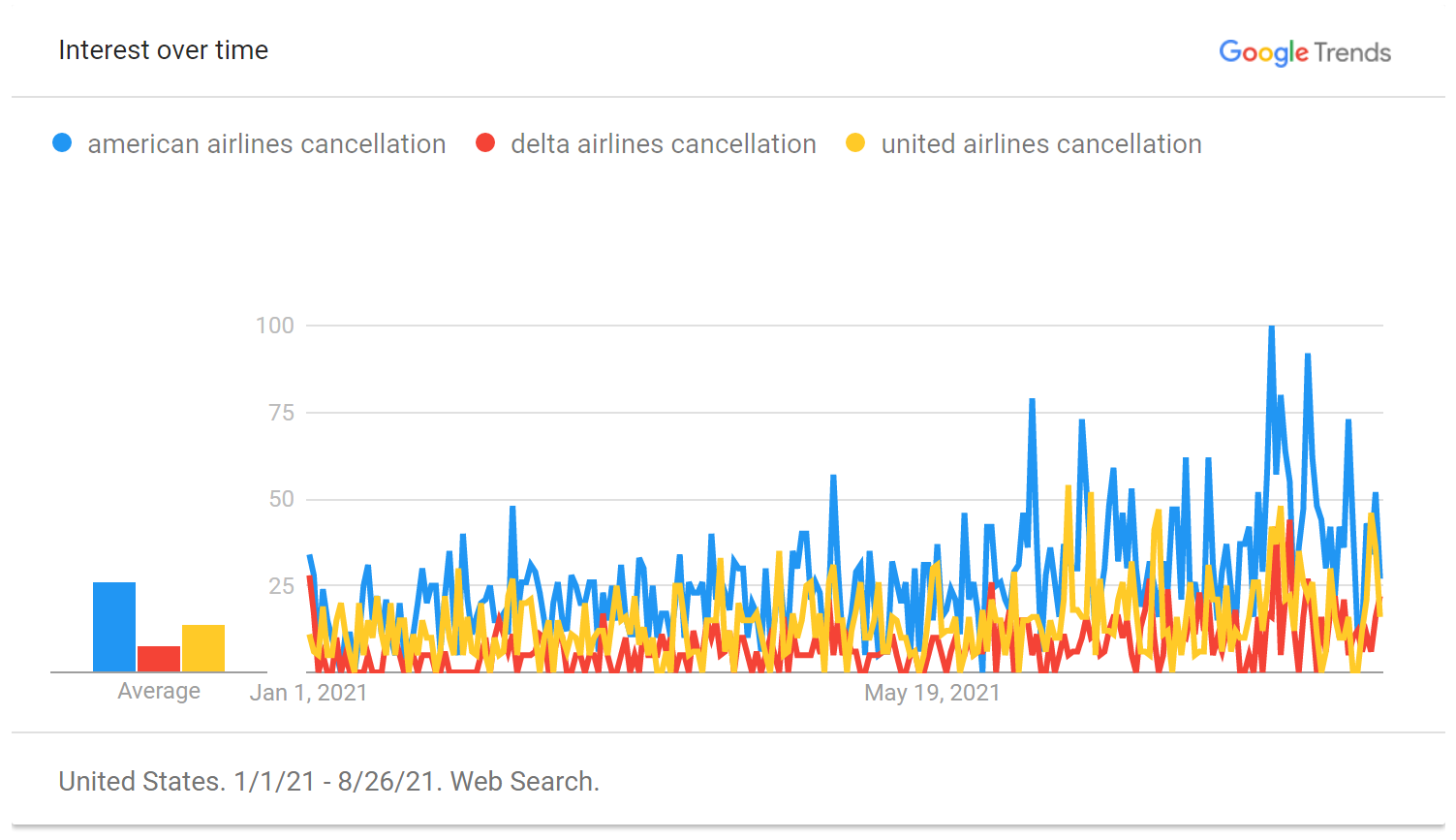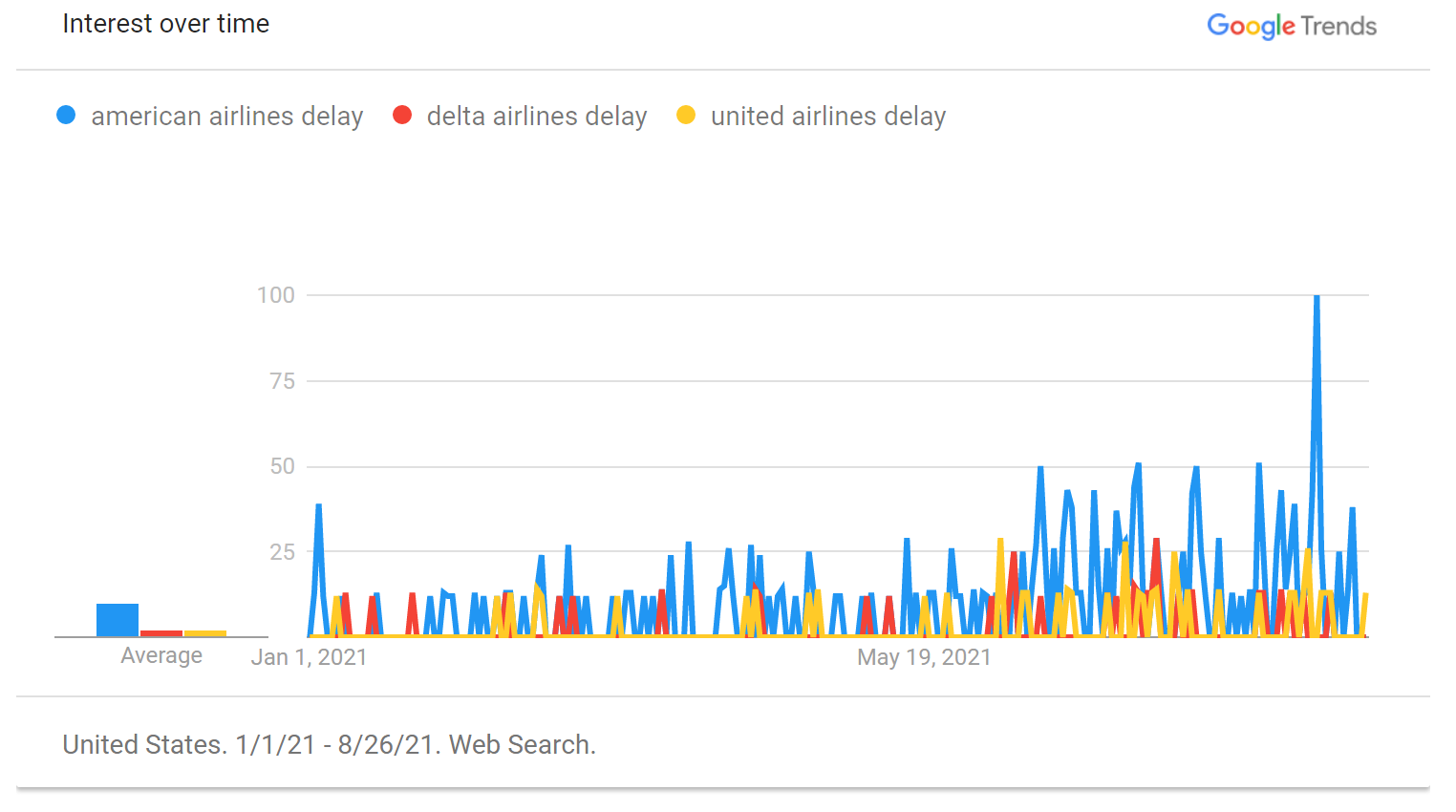 In Conclusion, American: Please. Get It Together.
I don't have any flights booked at the moment, but if I were flying I wouldn't book American.