The Impact of a Global Pandemic on Indego Bike Usage
Published September 8th, 2020 by Emily
Updated September 24th, 2020 by Emily
---
The number of Indego rides decreased at the beginning of the Pandemic
The graph below shows the average number of rides per day in 2020, as compared with 2019. I have included some events that I thought would help give context to the read, as to the state of Philadelphia on these days.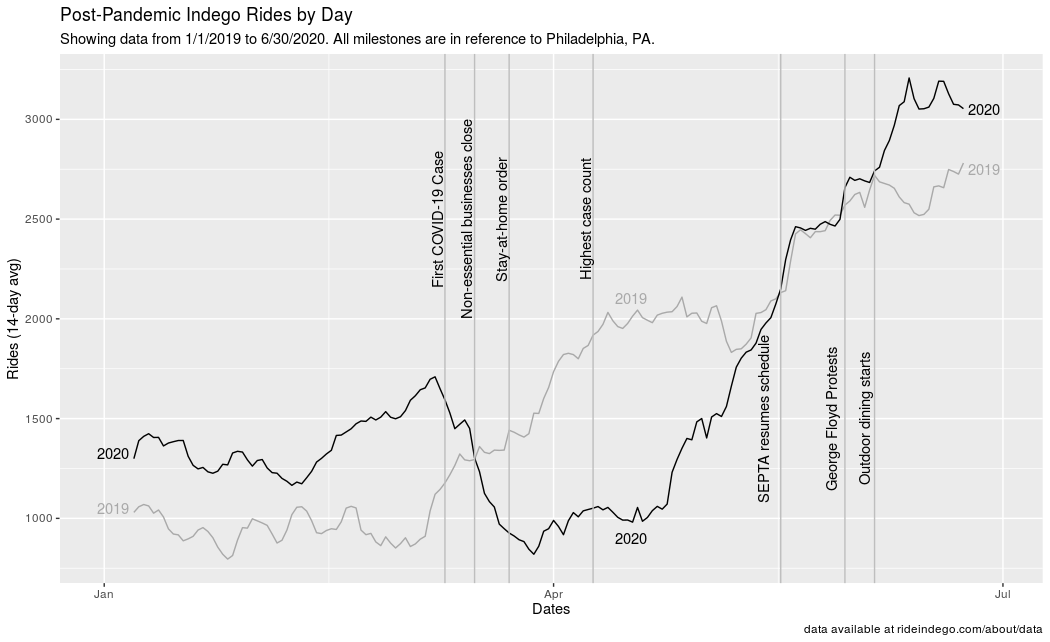 More people were riding Indego at the start of 2020, and that number was only increasing, in comparison to the number of riders at the same time in 2019. However, as businesses were ordered to close and the Mayor required everyone to shelter-in-place in the middle of March, the Indego ridership declined substantially. Most people didn't have to travel to work and no one was interested in riding Indego for pleasure when they weren't sure whether doing so could be dangerous to their health.
As people felt more cooped up in their houses and more information came out that outdoor activities were still a net benefit to people's health, Indego ridership began to climb again.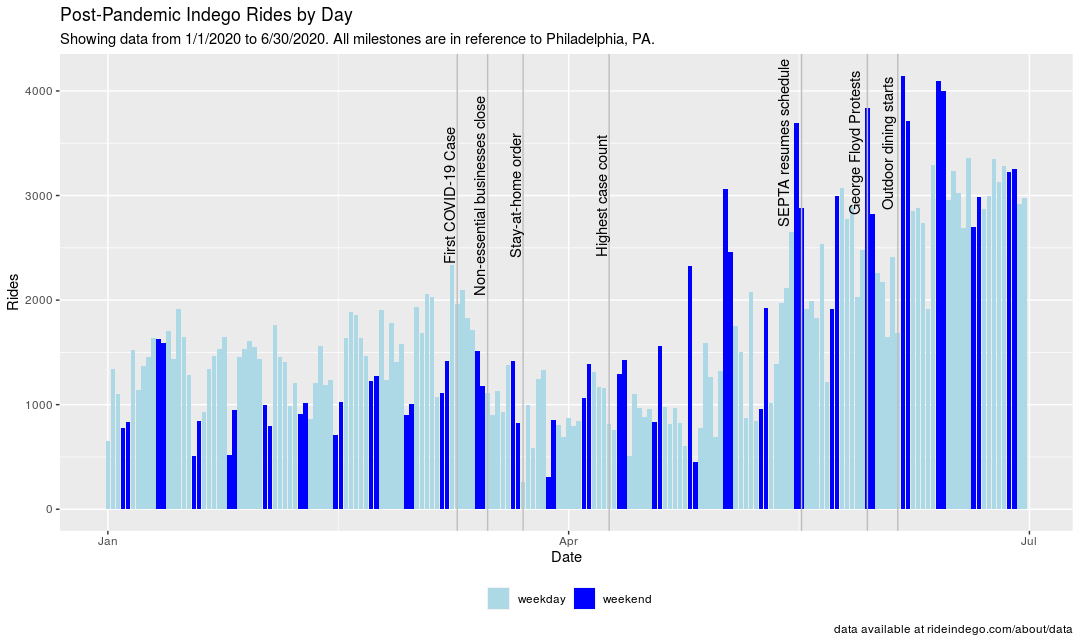 A very interesting trend emerged. In the past, most people tended to ride Indego on the weekdays and ridership declines on weekends. If we zoom in on the January 2020 to March 2020 time period, we can see that this is the case. Beside one unseasonably warm weekend when the high was in the 50s, ridership is substantially lower on weekends.
This is not the case just for the winter, either. Graphing the number of rides by day of the week from January 2019 to March 2020 shows us that clearly there are less rides taken on the weekend than on weekdays.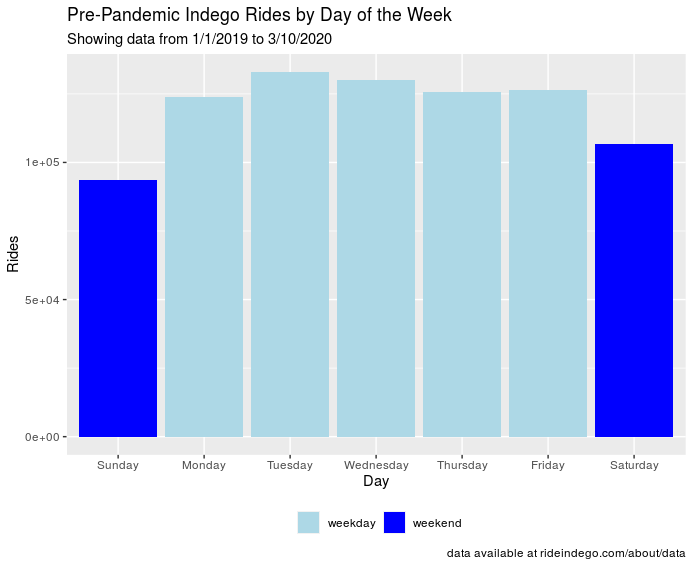 This data makes the case that most people use Indego for their commutes, and explains why, when most people were required to stay home from work, the number of rides dropped so suddenly.
During the global pandemic, this trend reversed. Starting on the weekend of April 6th, less than two weeks after the Mayor issued a stay-at-home order, the number of weekend rides was higher than the number of weekday rides. Saturday, April 27th, saw the most Indego rides of the entire year. And this trend continues until late June, when the number of rides are evening out.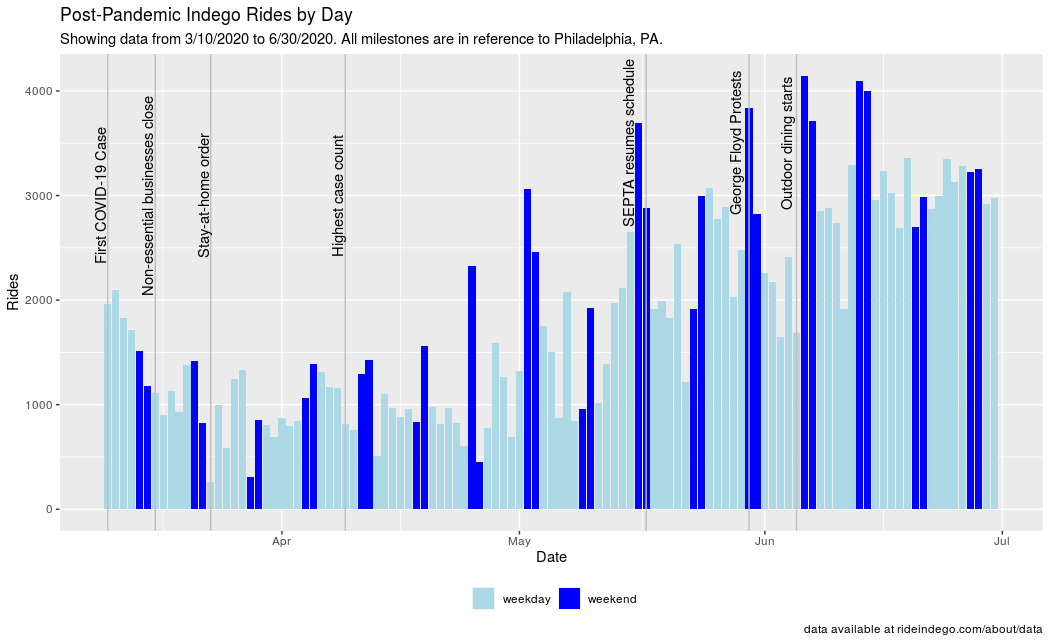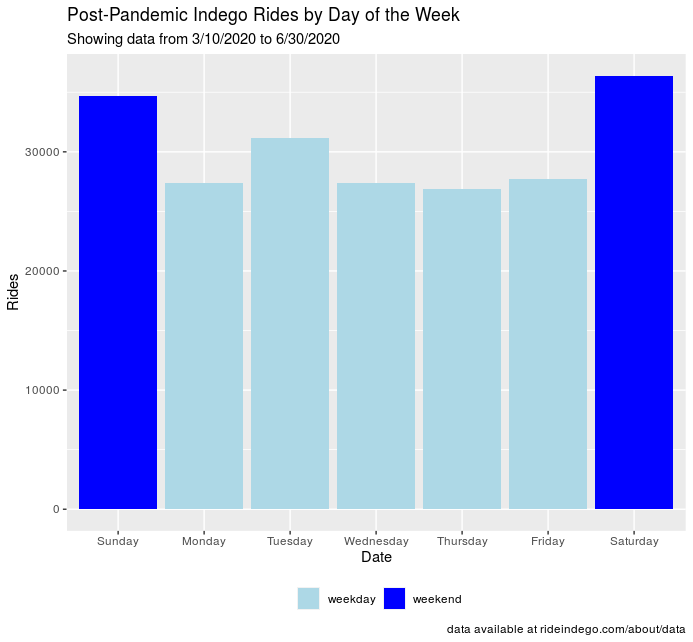 Indego has not yet released the ridership data for July and August, but it will be interesting to see whether the trends continue. The increase of weekday rides could be due to many things: children home for the summer, the re-hiring of employees at businesses that were previously closed, people getting tired of staying inside all summer, or something else.